Dr. Andrews is a Connecticut-based writer, whose current interest is the interface of religion, psychology, and public policy.  His work has been featured in many publications including The Wall Street Journal, The Federalist, and American Conservative, as well as many academic journals.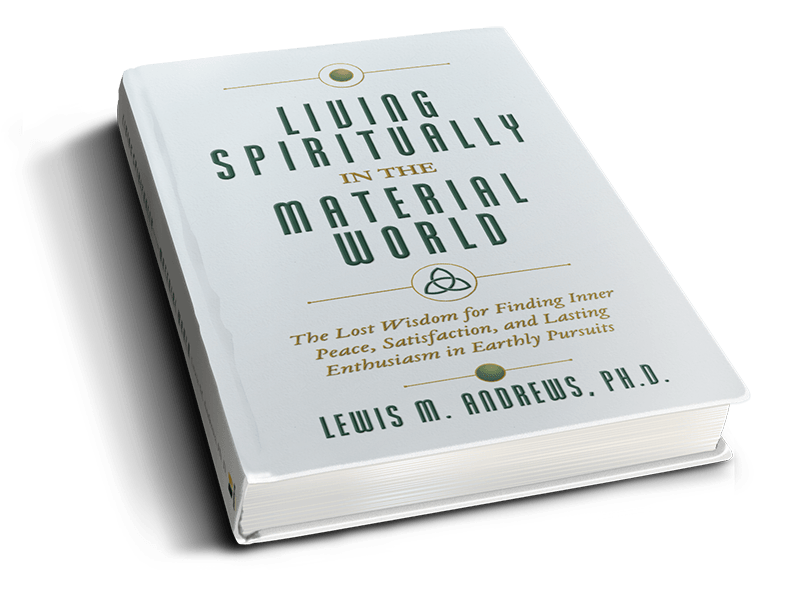 Published by Fidelis Books
Distributed by Simon & Schuster
Living Spiritually in the Material World
A Christian self-help book based on the lost teaching of America's early college presidents who—from the founding of Harvard in 1636 until the early twentieth century—inspired the most optimistic, prosperous, and generous society in history.
For every believer yearning for the meaning and satisfaction of a closer relationship with God in the larger world.
Dr. Lewis Andrews shows us how to lead lives of greater courage, resilience, and grace.
Living Spiritually in the Material World is a surprising and delightful book. Lewis Andrews has done us a great service by discovering and reflecting on classic insights that will help us, even today, to live with spiritual meaning in our everyday lives.
A fascinating study of the spiritual wisdom of early college presidents in U.S. history, which Andrews translates for today's modern audience.
Living Spiritually in the Material World goes beyond self-help to real personal transformation.
Lew Andrews has given us a thoughtful book of lessons to help make sense of today's turbulent and confusing times.
A must read for those who want to live out their faith through their vocational calling. This is a very important part to the 'faith and work' story that has not been told.
Living Spiritually in the Material World is very important …. Well researched and thoughtful efforts to bring to light what we can all sense but didn't have the objective perspective.
An engaging and enlightening book that combines the moral and spiritual wisdom of previous generations of college and university presidents in America with findings of contemporary psychology.
At a time of national moral decline, when there is growing skepticism about the value of our militantly secular and hideously expensive institutions of higher education, Lewis Andrews's Living Spiritually in the Material World will turn your head with a dazzling and hopeful insight.
In Living Spiritually in the Material World, Lewis Andrews sketches out what could make our communities stronger: faith, community, civility.
An unlikely page-turner, deftly blending history, biography, theology, psychology, storytelling, social commentary, and good counsel. A book to read, reread, mark up, ponder on, and live by.
To Thine Own Self Be True
The relationship between spiritual values and emotion health.
"One of the most valuable, enlightening books I have ever read."
-Hugh Prather
author, Notes to Myself